Cuba has up to 5,700 km of coastline and actually most of the coast has something interesting for divers: drowned shipwrecks, vertical walls, colorful and black corals, etc. Throughout the year, the water temperature averages is 24 ° C (in summer it is much warmer), and to the southern coast the average is higher throughout the year; for this the visibility is at levels of 30-40 meters. This makes Cuba a diving paradise!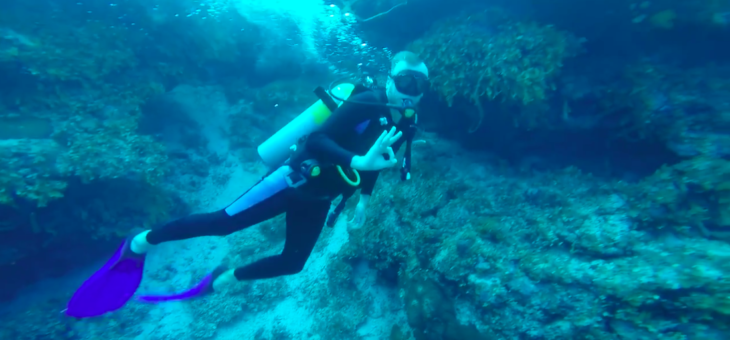 Diving in Cuba reveals the "maritime culture" of the country, which is as fascinating as the land: with steep walls and covered with coral walls, tunnels and underwater caves, in which there is a whole rainbow of fish, sponges, sharks and turtles and aquatic plants. The years of isolation for Cuba have made this ecosystem fantastically preserved here. 
Fidel Castro –the Diving Ambassador of Cuba.
Fidel Castro was a famous enthusiast of diving: The CIA used this fact for one of many unsuccessful assassination attempts (it is said that were several hundred). The Castro's assassination attempt here was to use the swimming suit previously poison and the shells as an explosive charge. Once again it was a failure. 
But it was not only the CIA the only benefited with Castro's love for the ocean. When Jacques Cousteau visited Cuba in 1985, both men realized they were related spirits. The marine explorer spent many months navigating his ship Calypso through the coast of Cuba, afterwards he was received with open arms by Castro, who admitted being very impressed with Cousteau's marine research, which encouraged him to protect Cuba's maritime world (natural and territorial …). 
Cuba is an underwater paradise for divers.

 
And there is something to fight for. Cuba is almost completely surrounded by coral reefs, with approximately 50 species of corals that flourishing in the warmer Caribbean coast. The lack of industrialization in the island signifies that the reefs and the creatures that live on them remained largely unaltered, a phenomenal party for divers and a rare success story in a time when pollution, trawling and rising sea temperatures threaten corals. 
Nevertheless, Cuba is not the best place for unqualified divers. PADI is an American qualification and is still rare in Cuba, but PADI licenses are the most respected. Some diving centers, such as the one in María la Gorda, offer a course according to the CMAS School, an equivalent in French that lasts approximately four days. Other centers offer, for example, ACUC (American Canadian Underwater Certification) courses that are a good introduction to diving. If you are looking for something more informal, some instructors will be happy to take newbies for test diving, the so-called intro, but it will be done at your own discretion and you probably won't be able to book it in advance. <
This is a rarity, but it should be mentioned that scuba equipment does not have the international safety standards, although more experienced divers will be able to perform basic checks on their regulators, BCD, etc. (or they may have their own equipment), new divers are much more vulnerable because they do not recognize mistakes. However, these are some exceptions, which are less and less developed. 
Where to dive in Cuba?

 
Many places to dive in Cuba are located near the cities and towns. Also is possible to dive directly from the beautiful beaches and this means that dive trips can be easily arranged in the island. In fact, in almost all the places where you stop on the coast, you will have access to a diving spots, more or less spectacular. 
It is also convenient for those who travel with non-diving partners or friends. In addition, when a diver swims among the reefs, his fellow travelers can enjoy the sun or the local culture or just snorkeling. The location of the island also means that you can enjoy a diving vacation throughout its entire length and discover the oceanic ecosystem every day. 
Let's see where the most beautiful places and the best conditions for diving are in Cuba.
Maria la Gorda
The westernmost spot of Cuba, María la Gorda, is one of the most popular places for divers. However, we should remember you that there is not much to do apart from diving and relaxing on the beach. The landscape is wild and remote with western beaches offering unparalleled sunsets. The enthusiasts of diving, however, have a paradise here because María La Gorda has up to 50 dive sites, including Yemaya, where you descend through an enormous wall that looks like a tunnel. Due to María La Gorda is a remote place, it is better to stay here for at least one or two nights. 
Santa Lucia

 
Just a bit more of 1 hour driving from Camagüey is located Saint Lucia, with a beach of 21 km! This dive center has the second longest coral reef. Just about 200 meters from the shore we can enter into a diving paradise. In this area there are about 40 dive sites, with coral ridges of around 10 meters, remains of Spanish merchant ships and sharks lurking at a height of about 30 meters.
Bay of Pigs

 
Playa Girón takes you back to the history of the Gulf of Pigs that has more than 30 dive sites and several dive centers. The immersions on the shore of the bay are suitable for beginners and more experienced divers. They can reach a depth from 10 to 40 meters. We also have sunken ships in the bay, such as Jaruco – that sank in 1984. 
In the Bay of Pigs there is also a huge wall that begins about 30 meters from the shore; here we find black corals and a wealth of marine life. Located about 8 km from Playa Girón there is Caleta Buena with its own diving center. Here, the brackish water supports a number of unusual sponges, hidden in the coral ridges and underwater caves.
You can also dive in the cave of fishes – Cueva de Los Peces that is 70 meters deep. The underground tunnel connects the cenote with the ocean. From the shore we can also go scuba diving: there is a dive center in the place.
The Queen's Gardens

 
This remote Caribbean archipelago located about 80 km from the mainland of Cuba, was recognized in 2002 as a marine park and is known for having the best dive site, not only in Cuba, but also all over the Caribbean. Unfortunately, it is also very difficult to access and very expensive. 
The coral reef and mangrove swamp stretch for more than 150 km and can only be visited by boats from the only company in the world, making this trip extremely exclusive.  The reservations have to be made one or two years in advance. The diving is also limited: only 300 people can stay in the so-called Rafa Fidel. 
Besides the virgin environment that provides a 40 meter visibility, divers are attracted by the great number of sharks that inhabit these waters as well as the unique opportunity to swim with crocodiles that hide in mangrove waters. Whale sharks migrate here from July to November, although this is the top of the Cuban rainy season, with possible hurricanes. In the Queen's Gardens you can snorkel for a short time for 7 days and this is related to staying on the hotel boat. 
Ancon Beach

 
There are more than 40 species of coral that form a huge reef near Playa Ancon. These beautiful corals also attract hundreds of reef fish. Many dives take place directly from the shore and the local international diving center Cayo Blanco also has boats that allow divers sailing towards the sea. Here we find huge walls of black coral, sponges and gorgonians, this happens about 25 km from the coast, in Cayo Blanco, a small island surrounded by 23 diving sites! Playa Ancon is easily accessible from Trinidad.
Guajimico
On the road to Cienfuegos from Trinidad, there is a small town named Guajimico, which is a great place to stop for a boat dive and as the name of the place suggests. Guajimico means "Place for the fish"!
Cayo largo del Sur
Cayo Largo is literally a long coastline, but it is actually quite short. This however means that its attractions are densely packed. Many reefs are located in shallow waters around the island and here there is a good diving school well organized and equipped. This is a great place for less experienced divers in order to learn skills while running into a labyrinth of corals. 
The own name of the place, The Aquarium has its name suggest, has to offer a lot of reef fish, turtles and sharks at a depth of just 15 meters. For more advanced divers, here we have steep walls covered in black coral and sea sponges that drop to a depth of 200 meters creating an exciting vertical ecosystem for reef fish. Cayo Largo del Sur can be reached better from Playa Girón at the Bay of Pigs.
Isla de la Juventud
The Isle of Youth has up to 56 places to dive, but not all of them are in the area of Cuba. The island is located in a protected marine reserve to the south coast. The underwater landscapes are very impressive and should challenge beginners and experienced divers with coral caves and tunnels, a massive wall and deep blue that descend till more than 1.5 km to the seabed. It is worth taking your underwater camera here to capture colorful species of corals, sponges and gorgonians. There are also tarpons, turtles, barracudas and even sharks.