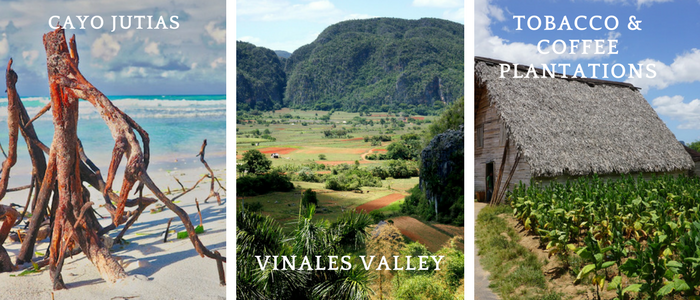 Taxi, Horseback-riding, Vinales Tour, Accomodation for 2 nights, Beach, Food!
Day schedule
DAY 1.
7:30 – We're starting in Havana at your place and we are going to explore amazing Viñales Valle.
First attraction in Viñales is view point from the famous Hotel Los Jasmines.
10:30 – Welcome drink in Vinales at your home – Casa Particular Juana y Michel (5 stars ***** on Air BNB)
11:00 – We start Vinales Tour – Cueva del Indio, Botanic Garden, Mural de Prehistoria – by American Car.
14:00 It's time for horseback riding excursion (or trekking, 3-4 hours) and you will visit tobacco and coffee plantations. You will see how Cubans make cigars and you can try to smoke also! 🙂 What more you will see coffee plantation to.
16:00 The second part of our horse-riding trip (or trekking) it's lake – you can swim if you want!
17:30 After 3-4 hours we have delicious, ecological dinner with great view for all Viñales Valley.
21:30 Around 8:00 pm it's great time for a party in Vinales!
DAY 2.
9:00 – It's time for beach! You are going to Cayo Jutias – the most beautiful beach on the west part of Cuba. Transport it's with another people by coche colectvio.
16:00 You are going to Vinales for the second night at Casa Juana y Michel.
19:00 Delicious home made dinner at Casa by Juana.
DAY 3
We will organize transport wherevere you want (it's not included).
PRICES:
1 person: 310 €
2 people: 370 € 
3 people : 470 € This price offer is two independent rooms.
4 people: 510 €  This price offer is two independent rooms.
Payment is in cash. Or by online transfers I always know that the payment is 68 h before the start of the excursion!
What is included:
– Private taxi by American Car from Havana to Vinales
– Vinales tour by the same car
– Horseback riding excursion with guide (tobaco and coffee plantations, lake) and delicious big dinner
– 2 night in Vinales at Casa Particular with breakfast
– Cayo Jutias by coche colectivo
– Home made food at Casa Particular by Juana
– We will organize transport for you to come back to Havana (or Trinidad or where you want to go) but it's not included in the price