It is not difficult to bring nice and interesting photos from Cuba, because it is a place outrageously photogenic! It is easy to bring boring and worn down photos! How to avoid this? Today we are talking to Piotr Trybalski, a photographer of journeys and a writer.
Basia: Cuba is a very photogenic place, but it is easy to be banal here. How to avoid it?
Piotr Trybalski: Each place that is original, either in terms of culture, rituals, events, clothing or architecture, and that is very popular, is photographed in the same way by many photographers. Then, the majority of the tourists walk by the same places, threshed roads, known, popular paths. And we have a recipe for the banality. 
When you look into Instagram and you search for photos of Cuba, you will realize that they are very similar. Almost they all have a photo of an old gentleman with a cigar on the teeth or ladies selling dolls at the Cathedral Square in Havana, photos of The Bodeguita del Medio and the stairs of Trinidad.  Besides, old cars parked below the Inglaterra Hotel and a selfie with a mojito. Few people bring photos, for example, of fights of roosters or from inside of house's apartments of historic neighbours, agricultures of Vinales or jumpers of the Morro Castel. In order to avoid falling into banality, you should spend a long time taking photos and coming out of the road of obvious places. 
How do we get ready for a journey to Cuba to understand what we are photographing?
The good photo's fuel is knowledge. You have to read, to watch films, then read it all again … It always surprises me the indifference of the journeys that I do not read, I don't know, I go for a spontaneous adventure because it is supposed that it is an adventure. Very well, everybody has the right. But the hair bristles when somebody makes a blog and tells about what you see and I do not understand only with words. I may sound a bit condescending, but if somebody has the ambition to understand what is seeing, you take photos, and then a certain amount of work waits for you. 
At the workshops that I direct, I always explain that a photographic journey consists of 90 % of the work at home and the test of time, in the place destined for the photo. And in the case of Cuba, which is original and paradoxically quite difficult of understanding, this knowledge, in particular, should be acquired. Although Cuba seems so similar to Poland from the times that we lived once, regrettably is not that similar. But there are films and books that might get us to know Cuba deeply. 
Our participants often ask me about photographing people, but my experience says that Cubans like it. Do you agree with this? 
Yes, they love it which is a good word, especially for men. The Cubans love each other, think they are handsome, beautiful … They like to pose. I never thought that a Cuban would react with an aggressive refusal. Cuba is a great place for those who are afraid of photographing people, or afraid of someone refusing or acting rude. 
There is another problem here: the Cubans pose and act too often. It takes a certain amount of time to remove this mask in order to project what really is behind it. Well, but time is a twin brother of photography, it is always alongside taking photos. In Cuba, it is very easy to pass from the stage of posing to the one of "what do you want". Quite fast, you can visit some mini-communities and taking photos. I do love you very much Cuba.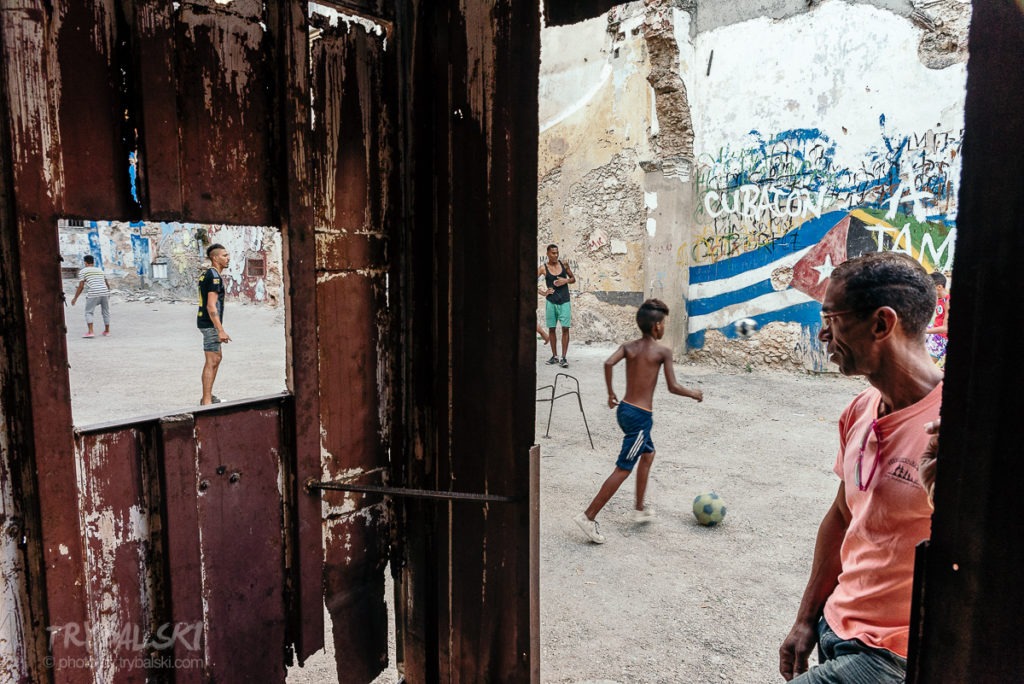 Pictures in Cuba, or how to bring beautiful photos of our tour
What do you recommend to pay special attention to bring beautiful photos from Cuba?
From the technical side, even the strong sun is taken into account. Especially when photographing people with dark skin or very dark skin. The enormous contrasts make it very difficult to establish the correct parameters of exposition. Our ally is the shade: if we want to make one portrait of somebody, we should request him to stand by the shade. It is worthwhile to take a walk in the cities and checking where and at what time the sunshine is raining, especially softly, in the morning and in the afternoon. 
There are places in Havana; for instance, a series of coloured houses of the neighbourhood in front of the Capitol, that look very good in the afternoon. The waterfront is perfect for sunsets as well as Plaza Mayor (The Bigger Square) in Trinidad.
The best sunrises in all of Cuba happens in Vinales, from the terrace of the Hotel Los Jasmines, meanwhile, the best sunsets take place at the Sugar Mill Valley close to Trinidad. The moral of this is that good photos are linked to good places in a good moment; that's why I make so much emphasis on arranging everything for the journey. If somebody only has dawned in Vinales can't experiment and must be sure of where to go and at what time. 
Does it worthwhile to look for inspiration to take pictures before travelling to a determined place, to see how did someone else photograph it, or the other way around? 
There are those who don't want to look either to suggest. They affirm they will take the same photos later. I don't belong to that group. I look at photos, but only from good and recognized photographers (Alex Webb, Ernest Bazan). I use massive Instagram photos, Flickr or Google, in order to select places; very often someone photographs without realizing how majestic the place is photographing is. The avalanche of the massive photos is, on the other hand, a cursing, from another one, an element of statistics: from a big quantity of photos, you can look for inspiring places and going there, to take a picture of it. This research work at the home is specified later on. 
What is your favourite photographic place … in Cuba, of course?
Without a doubt: Baracoa. And this is due to that only beautiful viewpoint it has: from the swimming pool of The Castel Hotel, and nothing else. I remember I saw once a blog of a couple of blog makers from Poland who visited a place. They took a seat along the shore and they complained saying there was nothing interesting there, just a miserable beach, they were so disappointed. In the beginning, I was entertained by their reaction. And then, after thinking, I felt sorrow because they were almost an example of travellers' book – Esthetes. They will look for a stereotype, confirmation of ideas and visual simple messages; those that following the postcolonial paradigm are searching for places that fit in the exotic canon of beauty. Is there something wrong with that? It depends on how you look at it. 
The so-called "searching of ideas" sometimes take the tourism industry to the point where the authentic places become outdoor museums, a scene for theatrical performances. The people visit those places massively to take exactly the same photo that thousands of people in front of them are taking. They get trampled or destroy themselves. This tendency frightens me. I have especially fear in Cuba because there is regrettably the belief that everything will be done for the tourist. In spite of the scarce knowledge of marketing, the Cubans learn fast and can counting money.
Pictures in Cuba, or how to bring beautiful photos of our tour
Fortunately, we will not find such cradles in Baracoa. But you can find, and taking photos, big stories. About people, events, about what is important, and not a necessity for the photographer, but for the characters, he talks with.
Something else is that sentiment connects me with Baracoa. Here I found the answer to the question I used to make myself since the first time that I landed on the island ten years ago: What is this about really? There was a moment in my life when I felt like the happiest person in the world. And it was in Baracoa. One of my next books will be Cuban History, with roots in Baracoa.
Is there any place in Cuba where only you have to be with the camera? 
If I ask the question in a different way: I have two weeks to visit, with a camera, I would answer: Havana, Vinales, Remedios, Trinidad, Cienfuegos, beaches of Cayo Santa María and the waterfall of Topes de Collantes. 
If it would be a week more, I will add Santiago of Cuba and Baracoa or Matanzas. And that is enough to enjoy Cuba, to understand it a little and, most of all, to bring good photos. It is not worth it to visit Cuba hurriedly. You have to go back to Cuba. 
Piotr Trybalski – photographer, journalist and writer and for Almost 10 years he directed OnetPodróże and, he wrote and photographed, among others: "Outside", "Politics, "Przekrój", "National Geographic", "National Geographic Traveler", "Travel", "Focus Historia", "Magazyn Górski", "Ski", "Welcome to Travel". 
He is the author of many books such as "A photographer in a journey", "Everything for K2 or "I, a hermit". He publishes regularly on his website: fotografwpodrozy.pl