Many parents are wondering whether to go to Cuba with a child. And rightly so, because for such a trip you need to be prepared much better than before your holiday trip in Europe.
Kuba with a childKubańczycy love children and probably nowhere in the world do not see kids so happy, carefree, just happy. Children play outside from morning to evening, run without shoes, watch adults. They do not have many limitations, but they are disciplined. Late in the evening, you can still meet them on the street or even on the street fiestas while dancing and playing.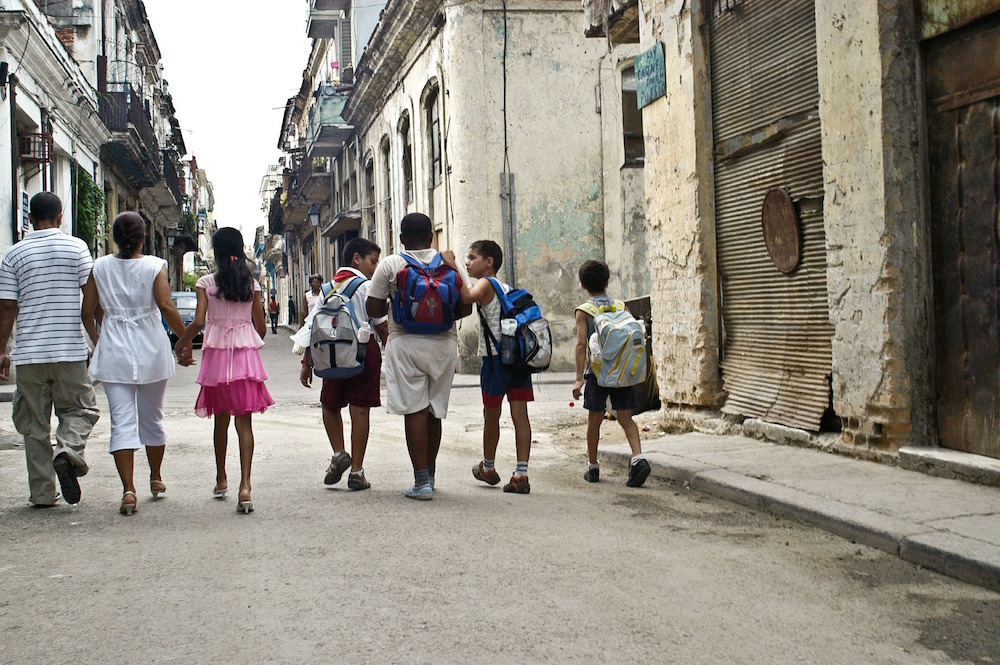 Should I go to Cuba with a child?
However, when it comes to leaving Europeans to Cuba with young children, the matter is no longer so obvious. What else will be the trip to the hotel, where we have all the amenities we provide and another trip around Cuba.
In the latter case, we rather advise against going to Cuba with small children (up to 3 years more or less). We will not find car seats, trolleys, changing tables, bottle warmers and other standards of the modern world.
Certainly, Kuba will be an interesting adventure for bigger children (more or less from 4 years of age), which will certainly be delighted with the living museum of motorization, beautiful beaches, the possibility of watching dolphins or crocodiles and eating delicious exotic fruits.
How to prepare for a trip with your child?
If we are going to Cuba with small children (with the larger ones too), then remember about the appropriate packing. Sun creams, snacks, favourite children's food or favourite toys will be beneficial. In Cuba, we will not buy anything from these things, so it's better not to forget.
What to bring to Cuba for a baby:
– diapers and cosmetics
– medicine
– food
What to bring to Cuba for bigger children:
– creams with a filter
– a well-equipped first aid kit
– a supply of your favourite snacks
– headgear and sunglasses
Cuba for children – the power of emotions!
Cuba is a fascinating place for every traveller, but above all for children who will discover a way of life without tablets, technologies and full shops, which all children consider to be obvious. Travelling in Cuba with children is a warm and friendly experience – there are dance classes, drums, beaches with white sand, safe streets and lots of local children who, despite the language barrier, are always willing to play.
Like most Latin countries, Kuba welcomes children with open arms. Fortunately, he does it without malaria, no drug gangs and no crimes around the corner. Hotels are family-friendly. There are of course only adults-only hotels, but those without an age limit offer many outdoor activities, both for children and their parents. Not to mention the Caribbean beaches, which are an idyllic place to build sandcastles and swim in the warm ocean waters. In the hotel's bases are also available kayaks, catamarans, pedalos and often also snorkelling equipment.
In Cuba, children are not bored
The biggest attraction of Cuba, also for children, is its culture. Instead of specific holiday activities, children can take part in dance classes, play with local children on the street, ride a horse (yes, yes!), Enjoy the night activities on the squares and discover Cuban life for themselves. Children in Cuba really are on the street fiestas until late hours. It is also normal to see a 6-year-old on a horse who teaches his equestrian from Europe. Only parents are horrified …
Always on weekends, and in tourist places every evening, on the main square, music events and attractions for children are organized. Cubans, if there are no such parties, protest and demand more children's events from the government. And they get theirs. There are therefore horse rides, carousels, popcorn sellers and sweets, skippers, etc. etc. Children from Europe love to play with those from Cuba. They play baseball or domino and have fun. Everyone of course spends time on the street and quickly forgets about home game consoles.
Cubans believe that the most important thing in life is to look after their own children and children of neighbours – and this extends to the children of foreigners. The revolution has ensured education and good health care from birth, so children are the eyes of the nation.
So when you go to Cuba as a family, Cubans just love it. They are delighted. For them to express trust and respect – a trip to their country with the whole family. They will do everything to facilitate their stay with children in Cuba, give them a sense of security and maximum comfort.