Are you looking for tips to travel around Cuba? We are with you! There is nothing to enchant: a trip to Cuba is a challenge for many experienced travellers. Cuba is not a backpacker's paradise. See what you need to know before travelling to the Pearl of the Caribbean.
Some people in the world think that Europe is a world of white bears. There's also those who think that Cuba is the same as any other country, with palm trees and paradisiacal beaches. Well, Cuba is one of the last bastions of socialism, where it is illegal to practice marketing, it is impossible to run your own business (except for the individual professions approved by the State and called self-employment) and Internet access is purchased with cards. We will not find competitive agencies with tours, car rental or other attractions very well- known in other countries. In Cuba, everything is state-owned and the store shelves are empty.                                      Let's see what is worth knowing before travelling to Cuba to avoid been surprised or even put in custody … yeah yeah!
MONEY INSIDE THE CLUB
Take cash with you.
Although ATM machines are actually in all tourist places, cash is better in Cuba. There are ATM glitches and sometimes the cards just don't work. Not only the cards of US banks that do not offer this service at all (for example, the bank of the city). Forget about card payments too. These appear only in luxury stores (for instance, to buy cigars or the most expensive alcohol bottle) and in hotels, but nowhere else.
With the payment cards of European banks, there may also be a problem and more often with the MasterCard. Therefore, it is better to have one VISA card with you and preferably two types if one refuses to be obedient.
Take Euros, USD or Canadian dollars.
In Cuba, the best conversion rates are destined to these currencies (it depends of course, on the current rate in the European world and other countries). Do not withdraw the Australian dollar, which Cubans don't really know what to do. Nowadays the US dollar is becoming the most popular currency among Cubans due to the appearance of Stores where you can only buy with foreign money.
Exchange money
Cuba has Cuban pesos (CUP) and we can pay everywhere and for everything with it. Recently, the Cuban Convertibles or CUC was eliminated from circulation, that's why it will be easier for us. The rate is 1 USD equal to 24 Cuban pesos. To pay for our accommodation or even in Bars or Restaurants, they may give us the option to do it in Euros or USD, of course, not in all of them, only in the most popular ones.
Exchange money in banks or Cadeca (CurrencyExchange Office)
Exchange the money in official places and keep your receipt. We can change money in the banks, although not in all of them, but also at the Currency Exchange Offices which are called Cadena. In the small towns, the offices for exchanging money have a short workday (until 4:00 p.m.), and an often on weekend is impossible – prepare yourself for that and schedule the money exchange in advance. On the last day of the month, banks are usually only active for Cubans to resolve
matters of the type of pension, the fees for licenses, etc.
Only one person can change money at a time and a passport is always required for it.
The rates are practically identical throughout the country (there are no private money exchangers at present), therefore
you don't need to postpone the change 10 times looking for a better rate. Also, the rate at the airport is usually the same as
the city one.
Pay attention to double prices

 
The letter "S" with a line is always a weighted symbol – $. Hardly anyone notices this, but the dollar symbol has two lines. In Cuba, prices, regardless if they are given in CUP or USD may have the $ symbol, which can be misleading and to many people, it seems that these are prices in USD. However, if someone tells us to pay 5 USD for curly ice cream, we can be sure that it is a crazy price, in other words, a fool price. Unfortunately, we must be guided by logic to avoid been deceived.
A sandwich for 25 USD, or almost 100 PLN, is crazy, so let's not fool ourselves and let's pay 1 USD or 25 CUP. 
Be careful while spending money. If we pay in USD (notes with monuments), we must pay attention to how much we should receive back. It doesn't matter if it is USD or CUP (because the seller may not have the so-called dollar): the correct conversion rate and the amount we receive is important. 
First arriving in Havana
Cuba is a very safe country. Nevertheless, the Capital may be a little bit complicated, even when people can also be very polite. Just in case, you better put credit cards, passports and valuables things in the safe of the guesthouse. Don't carry any more money than you need when out and about, just the necessary. Don't drink water from the tap because it is not drinkable. Don't change money on the street, do it only at official places called CADECA (Currency Exchange
Office) or Banks. Don't buy cigars on the street, they may be false. Do not follow strangers and don't buy drinks in places without a menu.
FORMAL ISSUES
Make the travel insurance before going to Cuba
It is mandatory to have insurance while travelling in Cuba. However, Cubans do not respect all of the insurance companies, so we must choose the most appropriate ones and also adjust the itinerary of our activities, such as extreme sports. American Insurance Companies are not respected.
You need a Cuban Visa, that is to say, a tourist card.
Before departure to Cuba, it is necessary to obtain a visa, the so-called tourist card. Many Airlines and airports (these are internal rules that do not arise from the law) verify that you have your card even at check-in. Therefore, it is necessary to get it in Europe, even if we travel to Cuba with Air Canada
that distributes tourist cards onboard aeroplanes.
Read more: A visa for Cuba.
Make a copy and photos of documents.
It is a good practice to travel around the world, but in Cuba, where there may be problems with communication, it is better to have a copy of your passport and a photo on the phone and in the cloud (in case of losing the phone).
Install the right apps on your phone and be careful about online safety.
Not all apps work in Cuba, and some of them work worse, so be prepared to use the Internet in this country. T
he best app for video calling is IMO. Skype works very rarely and the messenger does not work very well. Whatsapp works, but also worse than IMO.
Cuba does not always have online payments, so it is better to deal with all banking matters before leaving our country.
The best application for navigation is Maps Me or other offline maps – Galileo.
APPROPRIATE PREPARATION
Pack in small luggage.
If you plan to travel around Cuba, take into account the transportation restrictions. By collective car, it is to say, cars that transport tourists between cities, there is always little space. The suitcases do not work well on broken or cobbled streets, so if you are going to roam, it's much better with a bag pack. The smaller you have one, the better.
Have a well-equipped first aid kit.
There are two types of pharmacies in Cuba: those destined to Cubans and those destined to tourists, in which drugs or mosquito repellants are much more expensive. That's why you better pack your first aid kit and prepare yourself for apical travel diseases: diarrhoea, cold, sore throat, bruising,
bites, etc.
Book your first night.
For over a year in Cuba, it is not possible to offer accommodation services on the streets, stations, etc. For that reason, looking for accommodation usually goes from door to door. During high season, all the best places are fully booked for a long time, and there are weeks when there are no vacancies. It is better to pay attention to our accommodation, especially the first one. If we get a visa through the Embassy of the Republic of Cuba, we must have booked the first night, which is mandatory.
Booking excursions from your countries
There are no private travel agencies in Cuba. What is offered on the street is part of the agencies of the state. However, on
On the Internet, we can organize trips, which are also legal, but we will not find them in Cuba.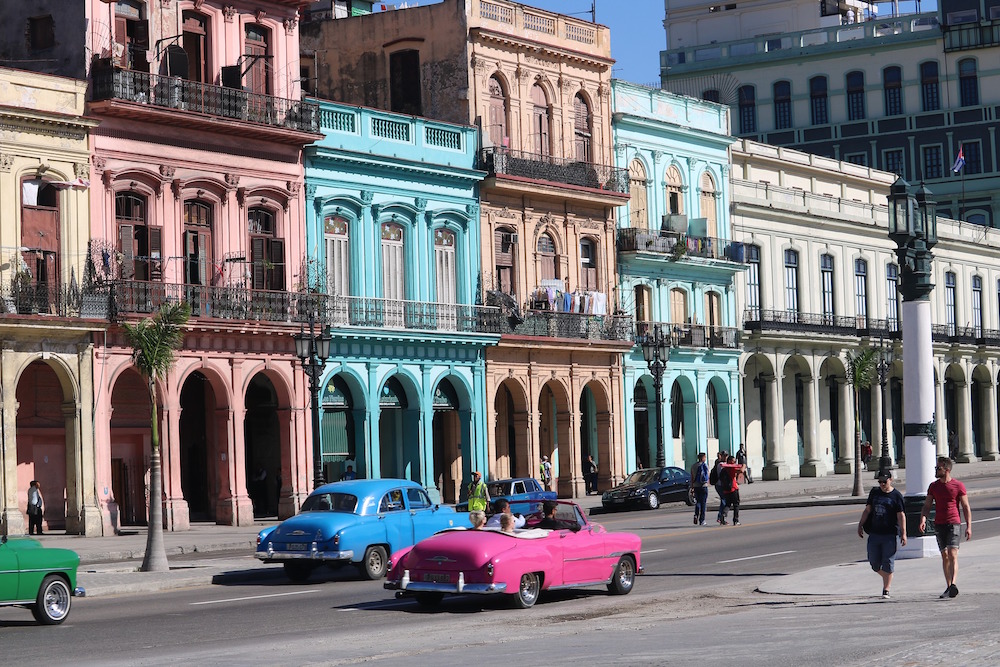 ORGANIZATIONAL INFORMATION
Get ready to travel to Cuba.
If you speak Spanish very good, you will come to Cuba and look for a means of transportation; English continues to be very difficult. However, if you do not speak the language, it is better to familiarize yourself with the travelling system of Cuba. See what are the prices and the possibilities;
where you can get public transportation and where only taxis, what is the schedule of travel, etc.
Checking when it is better to go to Cuba
The high season in Cuba lasts from November till the end of March. The good months are also April and May if the rainy season has started yet. The worst time is September, the period of hurricanes. Summer is the rainy season and also comes with great heat, so travel time is only for the persistent.
The weather, when to go to Cuba?
Plan your travelling schedule optimally Cuba is a large island and it is worth planning your stay well, in order to avoid been disappointed by not seeing a lot of. To travel easily around the island, we need about 3-4 weeks. Therefore, it is worthwhile to plan our stay and the possibility of reaching the places, the cost and the travelling
time.
A tour around Cuba.
Choose a hotel suitable to your needs It is difficult to choose a good hotel in Cuba; both in terms of standard and location. Everything depends on what do we
plan to do in Cuba, but if so, it is worth checking where is the hotel and what reviews does it have.
DAILY LIFE 
Get ready for the lack of food in the stores.

 
In Cuba, food is not bought in the stores. Markets in Havana are quite full (no compare to the European ones), but we will not find there the basic products we are accustomed to. There may also be problems while buying bread, since only private bakeries have recently been created, and state-owned bakeries do not always sell bread without the ration card, which of course only Cubans have. 
It is worth taking your favourite candies and snacks on the way with you because there are not many in Cuba. Many people also carry sauces and spices with them, because they also lack in Cuba. Cubans are not used to the spicy taste; you can even say they do not know it, so a small bottle of Tabasco will be useful for chilli lovers.
Do you need internet? Buy cards and use public Wi-Fi.
In Cuba, there is more and more talk about 3G, but for now, the Internet is located and available only in the most important spots of the city centres and hotels. To connect to the Internet we need a card with a username and a code. We buy the cards at the offices of ETECSA and you always need a passport to buy one. A card of one hour of Internet costs 24 Cuban pesos and it can be reused. You can also use it on multiple devices, but not simultaneously. 
We will also buy the cards on the streets, although it is illegal in Cuba. They usually sell cards where there is a Wi-Fi spot for the price of 50-100 pesos. You will recognize the Wi-Fi spots for a crowd of people looking at their smartphones. 
Remember to keep your receipt at the supermarket.

 
If we are shopping in a supermarket, it is worth knowing that we will not leave the store without showing the receipt. The person at the door will check if the contents of the shopping bag are according to the receipt and only then, we will leave the store. 
Look at the lineout … everywhere

 
Cubans have mastered the way of queuing and how important it is to take care of their site. The people who approach the queue always ask who the last one is ("el ultimo" in Spanish) and watch out for its place. If someone missed their turn, they just lost. And because the queues in Cuba are everywhere and they are very long, it is better to really learn how to take care of your place, not to listen "you have not stood here". 
PRACTICAL INFORMATION 
Wear suitable clothing.

 
The weather in Cuba is sometimes capricious. In the summer it is hot and rainy, and the winter is theoretically dry and warm. However, it is different to our climate, as it corresponds to an Island. We must be prepared for the rain all year round. It is worth having a raincoat, maybe even a small umbrella. In case of anything, we will need the sun. Always is good to have the head cover, and if we don't have anything to wear, in Cuba we can easily buy a straw hat. 
In the winter, the nights are cool and it is worth having clothes like the ones we use during the Polish spring, and not just summer things. It is good to have at least one dress to dance in and in the case of men, a shirt; the shoes, preferably comfortable. We will be so well prepared that we will definitely feel comfortable. 
Prepare for expenses.
The bad news is that Cuba is not cheap. It must even be said that it is quite expensive. Cheap in Cuba is only the rum and it is available absolutely always and everywhere. It is worth getting ready for considerable expenses (transport is especially expensive), to avoid ruining your holiday if unexpectedly you run out of money. 
Cuban cuisine – what we should know.

 
Due to the limited amount of food in Cuba, the cuisine is quite drab, but it can be really delicious. If we know where to eat, we will be delighted with food that doesn't have chemicals or artificial flavours. Cuba is not a paradise for culinary tourism and we must be aware of that. Cubans can offer us delicious drinks, the best cigars in the world, but sometimes their cuisine leaves a lot to be desired. However, remember that in Poland in the 80s or even the 90s we didn't eat shrimp or cabbage either. A great challenge will be to go to Cuba for vegans: it will be better if you take your favourite products with you. Vegetarians will do well in Cuba. Thanks to growing tourism, Cubans begin to understand that vegetarians cannot eat meat or anything alive, but they still do not understand why. 
Secure your luggage.

 
During your stay in hotels or private guesthouses, close your luggage with a padlock and put the expensive things in the safe if it's possible. Even if your hosts are lovely people, there are thefts and sometimes the service workers are guilty. In many accommodations they employ people to clean, and then you and the hosts can expect an unpleasant surprise. 
Do not throw away anything!
In Cuba, everything (except rum) is missing, so nothing is thrown away without thinking. Remember when you want to get rid of something; the Cuban can still get a benefit from it. Do not throw away, among others: plastic bags, bottles, cans. Cubans really live according to the philosophy of zero waste. Of course, unconsciously and forced by the situation of life, but we must appreciate it. 
Learn Cuban History before you get there.

 
Many people associate Cuba with icons like Fidel Castro or Che Guevara. The history of the Pearl of the Caribbean, however, is so captivating that it is worth knowing it in detail. This also may explain why the Island looks different today than the rest of the world, and from where it is worshipped a man who made a prison, as many people in the world think. 
Respect the environment.

 
Cuba has one of the best-preserved ecosystems in the world. It is the greenest island in the whole Caribbean; all of this is due to the lack of industrialism and capitalism that allowed to preserve the beautiful flora, the pristine coral reef and many wonderful species of animals. Respect it and travel responsibly. 
Open your mind and release.

 
It's not just that you're on vacation. In Cuba, everything works a little slower and the mentality of people educated for 60 years in socialism is really different. Cubans can and they love to play but can't tell them about working. It's better for everyone if we get into one slower rotation and we prepare ourselves to experience a completely different lifestyle, where work is not the most important thing and rush does not exist at all.