If you go to Cuba, it is not worth limiting yourself to the beaches of Varadero. The true essence of Cuba is founded in towns far from the tourist centres. See which round trips in Cuba will make you know this Caribbean pearl. 
Did you know that the famous Cayo Coco never belonged to Cuba? Varadero, on the other hand, was used to serve the American tourism movement, which particularly enjoyed all kinds of fun during Prohibition? The real Cuba is the people you meet on the road, the cities and bustling towns, cultural heritage or a beautiful ecosystem. Of course, Cuba can boast of dozens of beautiful beaches, but it's not worth going to Cuba just to sunbathe. The travel style that works here is 7 + 7: a tour and relaxing or, for more demanding clients, a longer tour around the Island and the last few days on the luxurious coastline. One thing is certain: you will not know Cuba from the perspective of the resort and hotels. How do you choose or plan a trip to Cuba? Here are our suggestions. 
Cuba – tourism and leisure 7 + 7

The essence of Cuba is, of course, Havana. Then, we go to Vinales to learn about the rolling process of cigars, while experiencing Cuban hospitality, the excellent cuisine and to admire one of the most natural and beautiful parts of Cuba. 
From Vinales we go to Trinidad and on the way we stopover to visit Cienfuegos. If you stay in Trinidad for more than 2 nights, you can reach Playa Ancón (Ancon Beach) and enjoy a delicious Pina Colada. We return to the north coast of Cuba. On the way to Santa Clara, we will stop at the beautiful waterfalls of El Nicho. Then we go to Santa Clara at night, a city with a great cult of Che Guevara. You can spend a relaxing week in Cayo Santa María, and if you have the time and also you pay for a larger budget, you can travel to Cayo Coco. Close to Havana, there is Varadero, with beautiful beaches and also a good place to relax. The trip ends at the Varadero or Havana airport, depending on which airport we fly to in Europe or any other destination.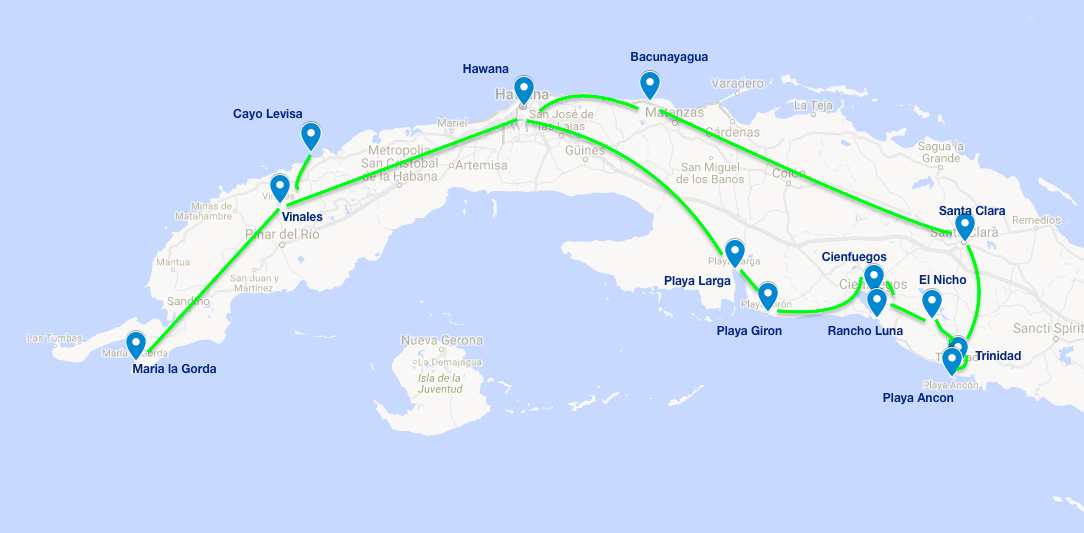 With this variant, we will know much more about the beaches of Cuba than in 7 + 7. This is a proposal for people who like to be on the road and love extra activities, not just sports. We will start in Havana. Then, we head west, to Vinales, where we spent a few nights. We organize a day trip to Cayo Levisa, where you must take a boat. On the way to the port, there is a beautiful and picturesque route. We spent the next day in the valley of Vinales, with plantations and enjoying. We are also going to Maria la Gorda for a day, but also you can stay overnight and use the bungalows along the beach. This place is especially appreciated by people who like to admire the underwater world, and in Cuba, there is something to admire. 
From Vinales we go to Playa Larga. After a long journey, we relax on the beach. To avoid packing again, we will spend two nights here and go on a trip the next day to Playa Girón. The Bay of Pigs is a great place to learn about the difficult relationship between Cuba and the USA. 
It is time to go to Cienfuegos. After visiting the town, we head to another beautiful beach – Rancho Luna. Right next to it, there is a dolphinarium and an incredible opportunity to swim with happy dolphins. 
The next stop is Trinidad that again is a good point for Playa Ancón. 
On the way to Santa Clara, we will stop for morning and refreshing swimming at El Nicho. The last stop is the viewpoint of Bacunayagua, and then we return to Havana.
Cuban pearls and sunbathing.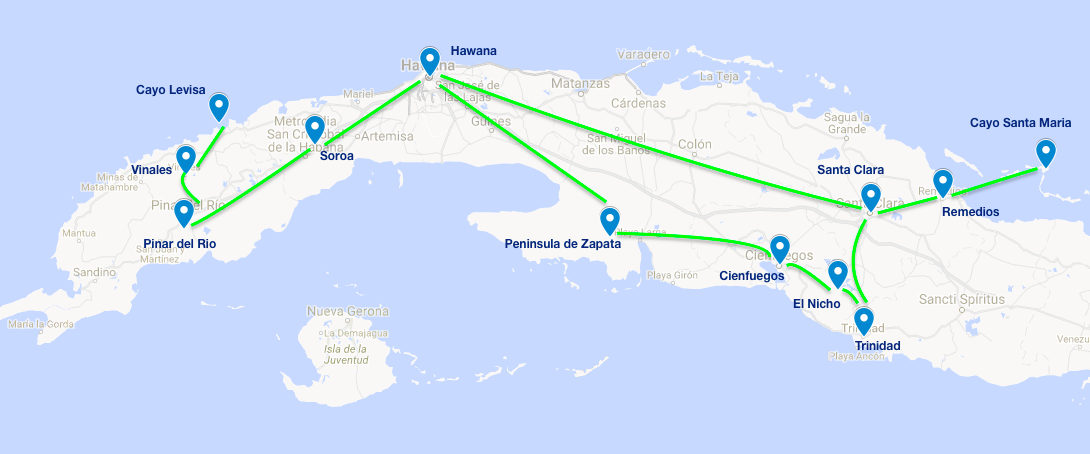 Our favourite program in Cuba is combining excursions and sunbathing throughout the travel. It is not easy to travel around Cuba, so the programs are easier to do with a rental car or with a private driver, or of course with a group and guides from Sunny Vinales Tour. 
We traditionally start this Cuban tour program in Havana, and on the way to Vinales and Pinar del Río, we stop to admire Soroa. After the first days of the trip, it is worth relaxing a bit, which is why we suggest Cayo Levisa. If you are travelling alone, you can also choose Cayo Jutias, but you must remember that the road to the beach is currently in very bad conditions. 
In the south of the Island, our first destination is the Zapata Peninsula, where you can admire wildlife, do bird watching or visit the crocodile farm. On the way to Trinidad, we will stop in Cienfuegos and from Trinidad to Santa Clara at El Nicho baths. 
The last days of the trip will be happy laziness, perfect for so few luxurious days in Cayo Santa María with its beautiful beaches. On the way, we stop at Remedies and we have a coffee at the Older Cuban coffee place.