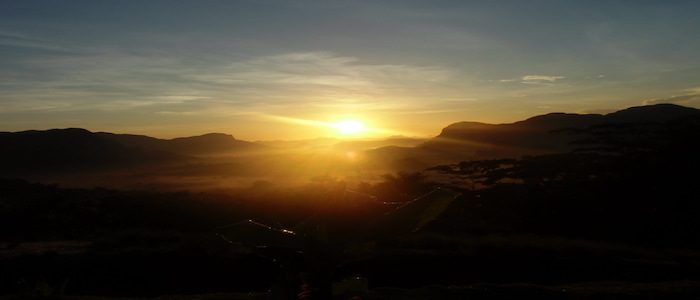 Everything begins with the sunrise and the singing of rosters at the Vinales Valley, which is located in the westernmost part of the island of Cuba. The first part starts between 4:30 AM to 5:00 AM, when we get up and next we get into a horse car for 20 minutes that take us to the vicinity of the pathway toward the Vinales Valley then, we walk up the mountain range of
Los Acuaticos (The Aquatics). This beautiful area can be sighted from the popular viewpoint of Los Jasmine's Hotel.
From there we can surprise, at least for once, the sunrise and we will watch how the mist and clouds embrace the green and colourful mountains of the Vinales and Palmarito's Valleys, so early in the morning but it's an amazing spot with a truth charm that always delight me, despite the passing of days and time.
Up there, we will learn about the history of the place and why it is called LOS ACUATICOS  which is nothing but a myth that has become so popular because the people of the mountain prefer to use the water to cure themselves, instead of going to a hospital or using any medical utensil. We will travel not only to discover beautiful dawn but also to reveal and explore the legend of the name of LOS ACUATICOS "S MOUNTAIN RANGE
This friendly and fascinating walk doesn't cover much time of the day that's why is possible to combine it with another activity you desire to do in the morning. For this reason, it is a very typical and practical attraction I always recommend to those who intend to go to Cuba and wish to have a cosy stay at the VINALES VALLEY
If you like the idea and you feel encouraged, it will be a pleasure for us to be the chosen ones to take you on
this amazing walk! If you wish to have the best offers of tours to do in Vinales, we will be waiting for you!